Every foodie in central Ohio can raise their spoons and forks to the wide selection of restaurants at Easton. We pride ourselves on being a haven for foodies everywhere whether you are stopping for breakfast, lunch or dinner. Whether you classify as an experienced foodie or a chicken-fingers-only eater, we have something for everyone!
Brunch 
Breakfast is arguably the most important meal of the day, and we are never one to turn down a creamy latte or a plate full of fruit-adorned waffles—especially before a day of shopping. Our first stop on the tour is all things brunch.
True Food Kitchen
True Food Kitchen is an award-winning restaurant with a health-driven seasonal menu, and natural beverages, with gluten free, vegetarian, and vegan options. A brunch menu is offered every Saturday and Sunday until 3 pm. Grab your friends and enjoy an insta-worthy brunch with selections like an egg and chicken sausage sandwich or gluten-free banana pancakes, and delicious craft cocktails (served after 12 pm on Sundays).
Northstar Café
Northstar Café is the spot for locally grown and organic foods that support local producers. The café features open kitchens and has specialty drinks and wholesome breakfast options available to order.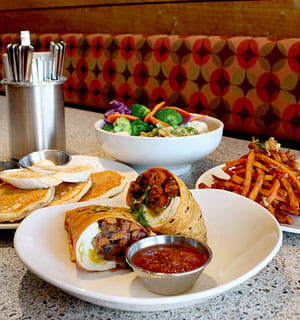 Burgers 
Sometimes, nothing can beat a classic burger and fries. Whether you want just a classic cheeseburger or are feeling adventurous with your burger toppings, we have a wide range of burger places that will quickly become your new favorite spot.
Shake Shack
Shake Shack recently opened at Easton and is an East Coast staple that is now right here in Columbus. This favorite burger joint serves up delicious burgers, hot dogs, frozen custard, shakes, beer, wine and more. 
Flip Side
Flip Side is a local Ohio favorite for those who love a gourmet burger. Burgers from Flip Side weigh seven ounces and are made with all-natural, grass-fed Ohio beef. Not sure which burger to try? Here are a few suggestions: Chili Pepper Burger, Forester Burger or the non-beef Curry Lamb Burger!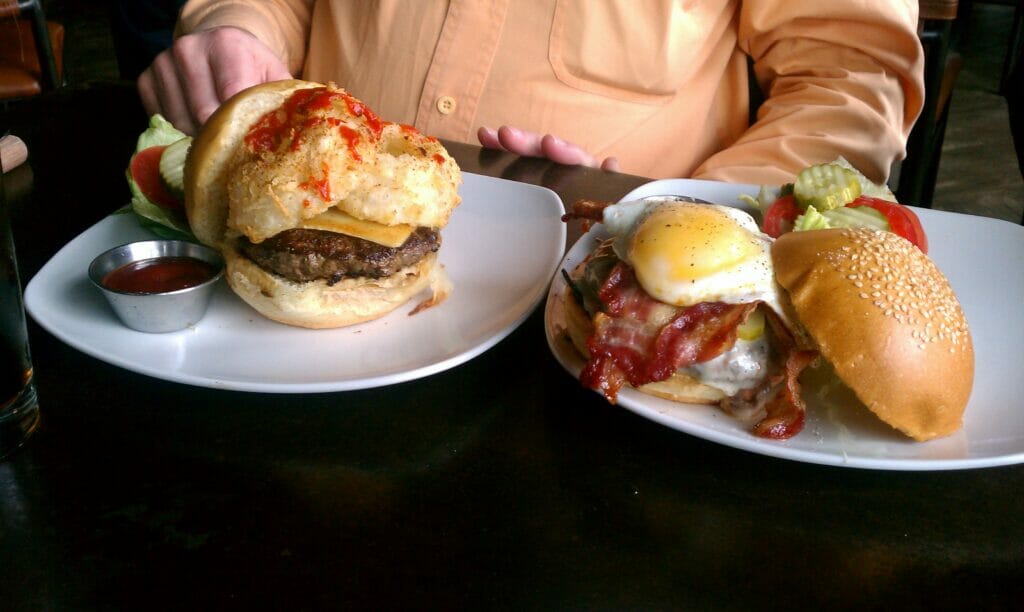 Pizza 
Like the great Dean Martin said, "When the moon hits your eye like a big pizza pie, that's amore."
Pies & Pints
It's no wonder Pies & Pints was featured in the Food Network Magazine's 50 Pizzas in 50 States and Huffington Post's Top 20 Pizzeria in the USA! Handmade crust, fresh ingredients and unique style is an integral part of each pizza. Pies & Pints also offers a wide collection of handcrafted beers from breweries all over the world. 
BJ's Restaurant and Brewhouse
From deep dish to tavern cut, and even gluten-free, BJ's Restaurant and Brewhouse has pizza for every taste! Meticulously crafted Chicago-style deep-dish with a Southern California twist is what BJ's is known for.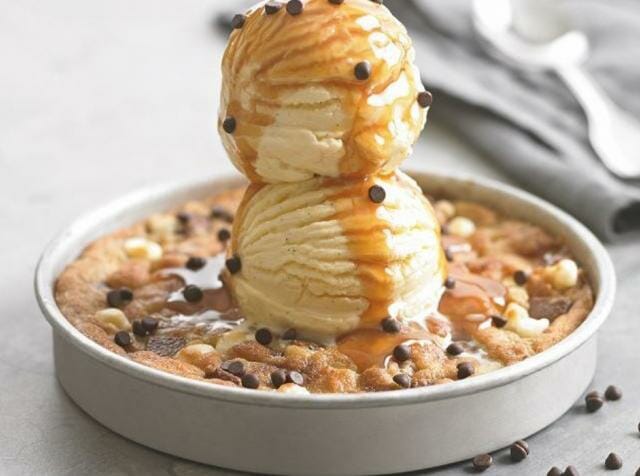 Seafood
You don't have to travel far for your favorite Coastal meals. They are right here at Easton!
McCormick & Schmick's
McCormick & Schmick's brings the best of the world's waters straight to Easton. The restaurant works with premier purveyors to offer guests dozens of seafood varieties at the peak of their seasons. There are over 80 unique preparations, with non-seafood options available as well!
Mitchell's Ocean Club
Mitchell's Ocean Club is a modern American restaurant that is known for its bustling atmosphere that's perfect for socializing, celebrating and indulging. Fresh seafood is selected daily for freshness, and wild, naturally harvested fish—recommended by the Monterey Bay Aquarium's Seafood Watch—is featured across the menu. Mitchell's Ocean Club also serves steaks and other delicious menu items along with an extensive wine and cocktail menu.
Across the World
All the worldwide favorites and no passport necessary!
Café Istanbul Mediterranean Cuisine 
At Café Istanbul, your taste buds will travel through Greek, Arabic, Persian and Turkish civilizations with creamy hummus and delicious chicken, lamb, beef, steak or swordfish kebabs. The adventure begins right when you step inside with an interior that is reminiscent of old Istanbul. 
FUSIAN 
FUSIAN makes sushi accessible for all taste buds by starting with rice and letting guests make determinations with options ranging from raw, wild-caught tuna, to cold smoked salmon. With respect for tradition, FUSIAN encourages guests to rethink sushi by offering unique ingredients like tofu, brown rice and roasted chicken. It's their mission to break down sushi stereotypes while keeping Japanese traditions of quality, freshness and hospitality alive. 
Adobe Gila's
Sizzling fajitas, zesty salsas and world-class margaritas are just around the corner at Adobe Gila's. The rustic cantina décor and a pumping soundtrack of popular music makes it the perfect place to snack on jalapeño poppers. 
Fado Irish Pub
Fado is a nod to Ireland's great pubs. Treat yourself to a couple of pints and a taste of Irish dishes. The pub is Irish owned and operated and combines old-fashioned influences with current trends and tastes. Come for traditional shepherd's pie or corned beef and cabbage.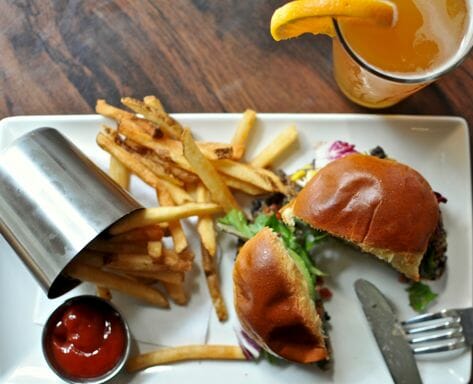 Quick Bites 
Jump in line, queue up your meal and get right back to shopping!
Café Zupas
Cafe Zupas is the spot for house-made soups, salads and sandwiches. Chef-crafted recipes and quality sourced ingredients are utilized for each menu item, and each item is prepared in-house every day. Enjoy a quick bite to eat either on the outdoor patio or indoors! 
Piada Italian Street Food
Piada Italian Street Food is a fast and fresh restaurant that features a hand-rolled crust filled with meats or vegetables and savory sauces, creating the perfect on-the-go meal! Step up and order your personal Piada creation. Be sure to add homemade bread sticks, fried calamari, lobster bisque, artichoke spinach dip and more to your order. 
Hot Chicken Takeover
Hot Chicken Takeover is a community-minded restaurant that serves up juicy, perfectly fried Nashville Hot Chicken rubbed with a cayenne-infused paste. Hot Chicken Takeover is also available for carryout if you are in the mood for a cozy night in!
Happy Hour 
Ring in the weekend, or the end of a long work day, and unwind at some of Easton's most unique and award-winning spots for a memorable happy hour.
Condado
Condado is a Columbus born Taqueria with an alcohol menu of 50 whiskeys, 50 tequilas and 25 beers. With chips, guacamole, queso and salsa, Condado makes a perfect happy hour spot! If you decide to stay for dinner, you can also build your own taco by picking from shell, protein, cheese, vegetable, salsa and sauce options. 
Melt Bar & Grilled
Melt Bar & Grilled was voted 2014 Best New Restaurant in Columbus, Ohio by Columbus Alive & 614 Magazine. The bar has a great craft beer list and is nationally recognized for their gourmet grilled cheese. The atmosphere and great food create the ultimate "melt experience" for your next happy hour. 
Rusty Bucket
Rusty Bucket is a casual neighborhood tavern serving the highest quality food and beverage in a "come as you are" setting. Scratch kitchens, fresh cocktails, and the perfect pour are our craft. Our associates are welcoming, and our hospitality naturally makes us the local hub where friends and family frequently gather to share in a good time.
World of Beer
Stop by World of Beer to enjoy live music, watch the game or simply hang out with friends in an upbeat, lively atmosphere. There are constantly new beers and seasonal offering available at World of Beer, so be sure to come often for happy hour!