The husband and wife team of Philip and Jackie Wachter founded FOUNT in 2014, inspired by a desire to craft beautiful, lasting leather bags. The word FOUNT means "an abundant source of desirable quality." The definition solidified the word as the perfect name for their company.
Most of FOUNT's products use full-grain Italian leather. Using British hides that are a byproduct of the meat industry, FOUNT partnered with an Italian tannery, founded in 1865, to choose the weight, colors, and characteristics that comprise their signature leather. By using these hides, FOUNT helps cut down on massive amounts of waste, keeping leather hides out of landfills.
The bags are designed in Cleveland, Ohio, and are handcrafted by skilled artisans in Ohio, the Dominican Republic, and Leon, Mexico. In the Dominican Republic, the artisans are part of a family-owned, multi-generational establishment that has been in business for over 100 years. The FOUNT team works with the artisans each week to ensure exceptional product quality, fair labor practices, and livable wages.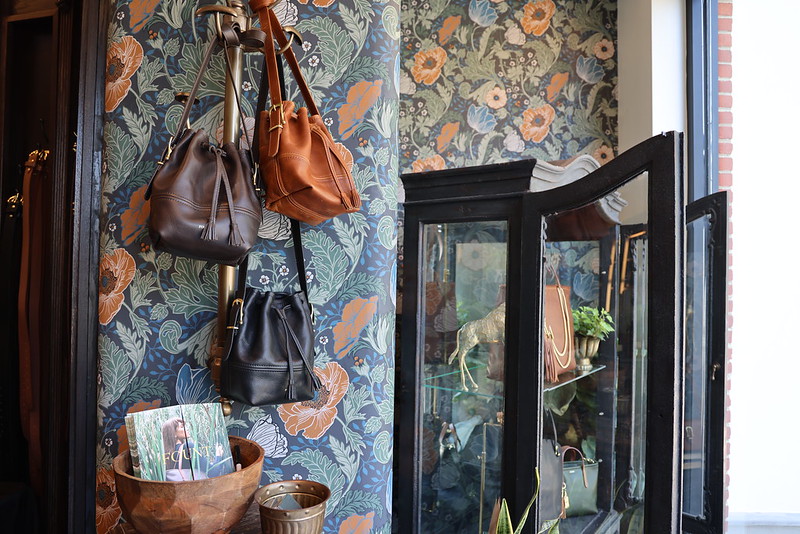 FOUNT offers a wide variety of styles and products, including totes, backpacks, purses, wallets, belts, keychains, and, its newest product, bag organizers. You'll find these items and more in their Easton shop, located in the South District next to Nike by Easton.