For Black History Month, we're excited to support and showcase black-owned brands at Easton. This week, we're featuring Fay's Crepes.
Located in the South District next to Brio, Fay's Crepes serves up sweet and savory crepes and waffles that are as versatile as they are unique. The toppings and recipes shape the crepes into breakfast, lunch, dinner, or a snack, sure to satisfy any craving.
Fay's Crepes was inspired by the best seller on the menu of Fay Abdi's Somali cafe, Yaa Salaam Café, which was located in the Banadir Mall on Cleveland Ave. – the heart of Columbus's Somali community. Though crepes were the last item added to the menu at Yaa Salaam Café, Fay noticed how much everyone loved them. She and her husband made the decision to close the café and open Fay's Crepes.
What is a crepe?
Crepes resemble a pancake but are much thinner. Originating in the Brittany region in Western France during the 13th century, crepes are now consumed all over the world, dressed with all types of toppings. They're served in all types of atmospheres: cafés and takeaway restaurants like Fay's; street carts; five-star restaurants; and everything in between.
You won't have anything quite like Fay's Crepes.
Fay Abdi is the founder (and namesake) of Fay's Crepes. A Somali woman raised in Sweden, she grew up eating a combination of traditional Somali crepes – typically served with savory options like beef stew – and European crepes – typically served with fruits, jams, or Nutella. Fay's Crepes combines both cultures, not just with sweet and savory topping options, but in the batter itself. She combines her mother's traditional Somalian recipe and the Swedish recipe she learned in a middle school cooking class, creating a multi-cultural, unique taste. The prep of the crepes begins the night before. The batter is prepared and then left overnight to allow the spices to marinate.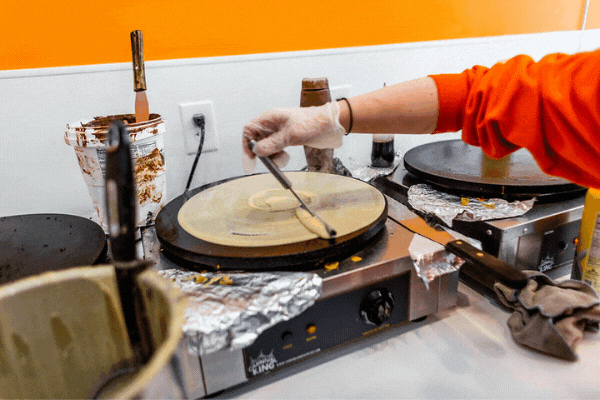 So what should you try first?
"My favorite sweet item is the Crème Bruleé Crepe, which is actually called "Fay's Fav" on the menu," Fay said. "I have a sweet tooth, and that happens to be the sweetest item on the menu.
My favorite savory item isn't on the menu and isn't a crepe. It's the Fay's Flamin' Chicken and Waffles." Fay's Crepes also serves waffles – light, golden, and fluffy and full of flavor. "Our chicken is not traditional fried chicken that usually comes with chicken and waffles," she said. "The chicken is seasoned and baked and paired with our waffles, and top it off with our spicy syrup made by another woman-owned business, SauceBoss Gang."
We hope you'll join us in celebrating Black History Month here at Easton!