As we continue to celebrate Black History Month here at Easton, we're excited to support and showcase our black-owned brands. This week, we want to tell the story of Black Box Fix.
Black Box Fix opened its doors at Easton in Spring of 2021, bringing a unique taste to the Easton Dining palette. Its chef-inspired menu combines Creole-Cajun flavor with sandwiches and street food, cooked with love and served with passion, that will keep you coming back for more.
The Cleveland-based brand was born when the hashtag #blackboxfix trended on social media. Customers would come into Chef Eric Rogers' restaurant, Nevaeh Cuisine, and say "I came to get my Fix." The rest is history.
What is Creole/Cajun flavor?
Both Creole and Cajun cuisines are native to Louisiana and combine flavors and techniques influenced by European, Hispanic, African, and Native American cooking styles. Creole food features rich sauces, tomatoes, and the prominent use of seafood, while Cajun dishes are more meat-heavy, one-pot dishes. The biggest difference between the two? Creole food tends to use more tomatoes and tomato-based sauces.
Who is Chef Eric Rogers?
While many kids were playing sports and video games, Chef Rogers was learning the art of cooking, working in his grandparents' restaurant, cooking family recipes that he continues to use today in his soulful dishes. A former finance manager for University Hospital in Cleveland, Chef Rogers cooked for family, friends, and colleagues, causing some buzz in the community.
In 2013, after 14 years working with the hospital, Eric left to pursue his love for cooking. Since then, he's opened 13 restaurants, won countless awards, and appeared on television – even as a contestant on Food Network's Guy's Grocery Games.
What should you order?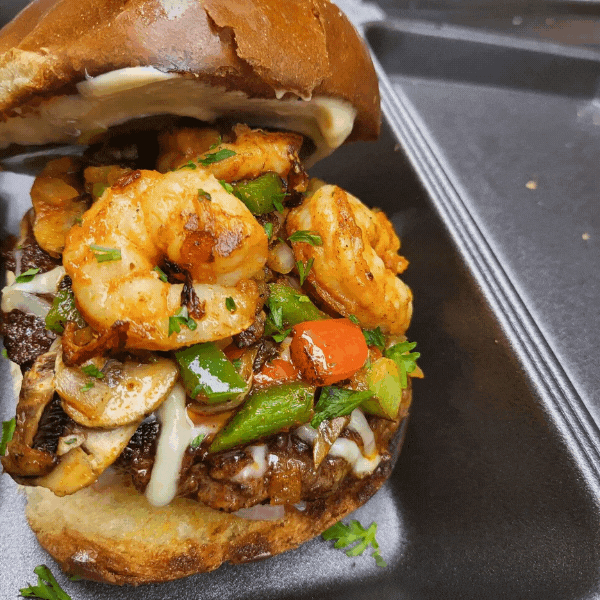 You really can't go wrong at Black Box Fix. But Chef recommends the OMG 2.0 or the Railroader Burger.
The OMG 2.0 features grilled chicken, buttered lobster, jumbo chopped shrimp, mushrooms, onions, peppers, swiss cheese, and spicy crab mayo served on a toasted hoagie.
The Railroader Burger is seasoned-fresh ground beef cooked to your preferred temperature with smoked gouda cheese, sautéed mushrooms, and sweet smoked bacon jam, served on a toasted brioche bun.
Is your mouth watering yet?
If you're looking for something out of the box, the Hibachi Burger is one you won't want to miss. This ground angus beef patty is topped with creole shrimp, mushrooms, onions, peppers, mozzarella and provolone cheeses, and house yum mayo, served on a toasted brioche bun.
Not looking for a sandwich? Try the Stoner Fries – Chef recommends the Surf 'n' Turf, which features crispy garlic parmesan fresh cut fries topped with grilled steak, shrimp, onions, peppers, Cajun cheese sauce, and scallions.
Don't forget to wash it all down with a Faygo Red Pop and a Peach Cobbler Cake Jar for dessert!
We hope to see you soon as we celebrate Black History Month at Easton!